Contact Langley RCMP
To report a crime currently in progress or for immediate police assistance please call 9-1-1.
The RCMP does not accept reports of crime via email.
Calling Us:
Emergency 911 and Non-Emergency Line 604-532-3200 are available 24 hours/day, 7days/week.
When contacting the RCMP in BC, please note:
The RCMP does not accept reports of crime via email.
To report a crime, contact your local RCMP detachment or the police force of jurisdiction in your area.
E-mails that include foul or obscene language will not be responded to.
Correspondence that contains threats to public or police officer safety, or appear to be created for the sole purpose of inciting hatred, may be retained for legal purposes and possible criminal prosecution.
Information that you send electronically could be accessed by another person. Do not send personal information.
Messages are reviewed and answered during normal business hours only. The Langley RCMP detachment provides 24 hour Police Service. For those who attend the Detachment after Business Hours they are directed to pick up the phone to the right of the front doors to connect with a Police Dispatcher who will assist them.
Langley R.C.M.P. Detachment
Hours of Counter Service:
Monday - Friday: 8:00 am to 8:00 pm
Sundays and Holiday Mondays: 10:00 am to 6:00 pm
---
Aldergrove Community Policing Office
Address
26970 Fraser Highway
Aldergrove, BC
V4W 3L6
Phone: 604-856-7386
Hours of Counter Service:
Closed until further notice
---
Langley City Community Policing Office
Address
100- 20408 Douglas Crescent
Langley, BC
V3A 4B4
Phone: 604-514-2870
Hours of Counter Service
Closed until further notice
---
Walnut Grove Community Policing Office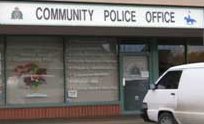 Address
#108 8850 Walnut Grove Drive
Langley, BC
V1M 2C9
Phone: 604-888-0563
Hours of Counter Service:
Closed until further notice
---
Willowbrook Community Policing Office
Address
#140 20338 - 65 Ave
Langley BC
V2Y 2X3
Phone: 604-534-1040
Hours of Counter Service:
Closed until further notice
---
Langley RCMP Locations
View Langley RCMP Locations on a larger map
22180 48a Avenue, Langley
26970 Fraser Highway, Langley
#140, 20338 65 Avenue, Langley
#100 20408 Douglas Crescent, Langley
#106 8850 Walnut Grove Drive, Langley